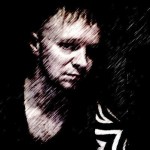 Mad Monday Resident
In 1993 Micha Stahl came the first time in touch with the tresorclub ( Berlin). He was realy fascinated by the energie of the music and the scene.
After spinning his first records in 1997, he started two years later a residence @subtunes (subground/berlin), where he was playing mounthly the 'warm up' and the 'outro' for Andre Galluzzi. From 2001 up Micha Stahl played regularly as a resident @tresor/headquarters, which made tresor to his home and springboard in one. Gigs in many of Berlin's technoclubs (Electric-Ballroom, Ostgut, Pfefferbank, Maria etc.) were following as well as all over Germany and in countries like Switzerland, Holland, Italy, Israel, France… Playing at the Ostgut and in Tel Aviv (M1) were undoubtedly two of the most impressive experiences for him.
In 2006, Micha Stahl left tresor as a friend, to try new things.
Meanwhile his hard technosound changed to varied tech-house.
31337 Records